Few magical orders exist dedicated to the undercurrent of Lilith and deal in initiations specifically related to the Aracana of the first Mother. Two reputable organizations that progressively use initiations and magick associated with Lilith are the Ordo Antichristianus Illuminati and the Order of Phosphorus. Author Joshua Seraphim has written three texts associated with the egregore of Lilith entitled "Rite of Lilith," "Confessionis ex Lilitu," and the "Lamentations of Lilith."
Lilith appears as a succubus in Aleister Crowley's De Arte Magica. Lilith was also one of the middle names of Crowley's first child, Ma Ahathoor Hecate Sappho Jezebel Lilith Crowley (b. 1904, d.1906). She is sometimes identified with Babylon in Thelemic writings.
A Thelemic rite, based on an earlier German rite, offers the invocation of Lilith (warning: an article on how to summons Satan). Read here about the wicked witchcraft of Lilith, and how it relates to the OWL...
Lilith is the mythological first wife of Adam. She, like Adam, was created by God "from the dust of the earth. . . in the image of God He created them, male and female He created them" (Gen. 1:27) being the first reference to human life in the Bible. It would seem that Eve came later, fashioned from a rib taken from Adam while he slept : ". . . this is to be called Woman, for this was taken from Man". (Gen. 2:24) This strange anomaly can only be explained by assuming that there was a female human before Eve. Since only Eve is subsequently present in the Garden of Eden, her predecessor must have departed before Eve's arrival on the scene. One can only assume that Lilith's near total absence (aside from oblique references to "screech owls") from the Judeo/Christian Bible is a matter of prejudice on the part of the male patriarchal authors.

Semitic legend describes Lilith as having a "base" nature and a taste for biting Adam and drinking his blood. She had refused to submit to Adam's authority (and a preference for being "on top"), and in a fit of pique, she uttered the ineffable name of God and flew up into the air, only to be cast down by God into the desert wastes where she took up residence. (The only mention of Lilith by name in the standard Christian Bible is in Isaiah, where a passing reference is made about her living in the desert.) Lilith is described as either a winged serpent or a screech owl (or a anthropomorphic combination thereof) who murders infants (it would appear from the perspective of modern medicine that infants who succumbed to Sudden Infant Death Syndrome would have been thought to have been victims of Lilith), and who torments men at night who sleep alone -- the original succubus.

In modern mythology Lilith has become a symbol to many feminists of the independent woman, who refuses to submit to the control of men. While this is certainly an aspect of her egregore, there is a strong sexual component to Lilith's nature that must also be recognized. She is more than just an "uppity woman", she is the power of primal lust in female form. And also, she is Death, and this cannot be ignored when working with her magically.

SOURCE (The Invocation of Lilith)
Did you read that... Lilith is described as either a winged serpent or a screech owl WHO MURDERS INFANTS!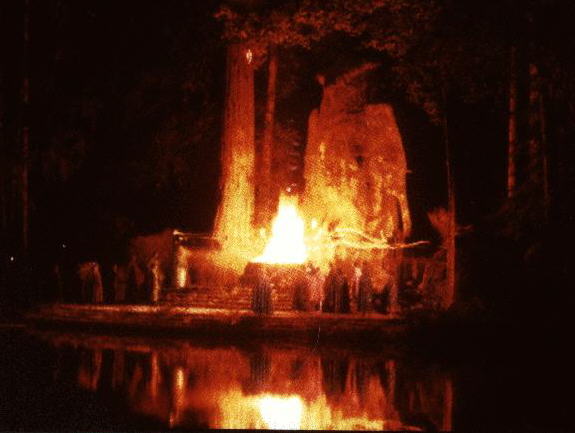 Priests set fire to their sacrifice of a human effigy which screams in pain over loud speakers to the cheers of onlookers across the lake.
A 2006 occult work by ceremonial magickian Donald Tyson, titled Liber Lilith details the secret cosmology for the 'Mother of Harlots' and spawn of all nightbreed monsters Lilith.  The book proclaims itself as saved from the ashes of Dr Dee's library at Mortlake in the 1580's.
Just as Lilith is the demonic god of Bohemian Grove, so is Baphomet (the son of Lucifer and Lilith) the demonic god of Freemasonry.  Do you see how all these demonic occult organizations are linked together?
In modern Luciferianism, Lilith is considered a consort and/or an aspect of Lucifer and is identified with the figure of Babalon.  She is said to come from the mud and dust, and is known as the Queen of the Sucubi.  When she and Lucifer mate, they form an androgynous being called "Baphomet" or the "Goat of Mendes," also known in Luciferianism as the "God of Witches." -SOURCE: The Church of Lucifer.
Bohemian Grove is rooted in Luciferianism!!!
The writings by Micheal Ford, "The Foundations of the Luciferian Path," contends that Lilith forms the Luciferian Trinity, composed of her, Samael and Cain.  Likewise, she is said to have been Cain's actual mother, as opposed to Eve, but through her.  Lilith here is seen as a goddess of witches, the dark feminine principle, and is also known as the goddess Hecate. -SOURCE: Black Witchcraft: The Foundations of the Luciferian Path